Dental Implants In Burbank, IL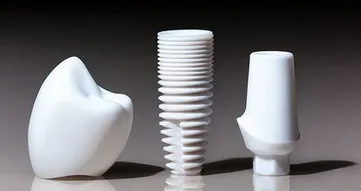 The facts about dental implants from your Burbank dentist
If you have lost one or more teeth, you can definitely benefit from dental implants. They are a much better choice than dental bridgework, partials or dentures for many reasons. Why settle for conventional tooth replacement when you can have the newest, state-of-the-art method for tooth replacement? Dr. Ward of Burbank Family Dentistry, in Burbank, Illinois, wants you to know the facts about dental implants and why they are a great option for you.
Dr. Ward wants you to experience the benefits of dental implants such as:
Permanence- because they actually become part of your smile
Convenience- you don't ever have to take them out to clean them
Stability- they are embedded in your bone and don't move around
Beauty- they look natural and beautiful, blending into your smile
Successful- with a success rate of over 95%
Dr. Ward wants you to know that dental implants are also a conservative dental treatment because he won't have to restore the teeth around the implant, unlike dental bridgework. Dental implants can also help you look younger! If you've worn dental appliances or been without teeth for a few years, the bone in your jaw will diminish over time. Dental implants actually create more bone, giving you a firm jawline and youthful facial contours.
Dental implants are made of titanium, a uniquely biocompatible material that fuses with your bone and becomes fully embedded in your jaw. After a healing period, Dr. Ward will place a beautiful sparkling porcelain crown on top of the implant. Dental implants can replace one or more teeth, or can also be used as support for a denture, called an overdenture.
It's time for you to learn how you can benefit from dental implants. Don't you deserve a beautiful, full smile? Of course you do! But don't go see just anyone. You need the services of an expert, like Dr. Gerald Ward DDS of Burbank Family Dentistry, in Burbank, Illinois. Call today and find out more about what dental implants can do for you and your smile! (708) 424-2900